HG: How would you describe your group to a person who has never heard the CunninLynguists


Deacon: You've never heard of us because Americans think our name is crap. A combination of the words "cunning" and "linguists" that plays off the word "cunnilingus" and honestly 90% of the English speaking population in America is unfamiliar with all three of those words. [laughs] Our music is dope though. Authentic Hip-Hop for the soul. Rap for music lovers.

Kno: Yeah, at this point our name has been in every major music magazine and blog you'd want to read since forever. If you are a hip-hop fan and haven't "heard of" us, you are probably ignoring us on purpose. Probably because of our name. [laughs].


HG: You guys have worked with countless artists on both sides of the Hip-Hop spectrum. Is that easy?

Deacon: The same way some people claim they "don't see race" we don't see a "Hip-Hop spectrum". Society applies labels to artists that we choose to work with, not us. We're just open to work with artists we respect, regardless of the category you've been placed in. Willie Nelson to Willie D. Bobby McFerrin to Bobby Ray. We'll work with anybody that's dope and cool enough to work with an indie hip hop group with a terrible name. [laughs]

Kno: Yeah, I disagree that there is a "hip-hop spectrum" in 2009, and if there is it definitely has more than 2 sides. The talent pool and number of opportunities for hip-hop artists has gotten so small all you really have left is dope artists and wack artists. The idea of "underground" rap is dead. Slug sells more records than Slim Thug so people's 2002 definition is just played out and disingenuous at this point.


HG: What would you say is your definitive song. (Each member pick one. Explain.)


Deacon: A loud minority of our fans seem to think it's "Lynguistics", which isn't even an actual song. Its an album intro. It's just a 2 bar loop with one rapped verse and no hook. I guess it would only make sense that we were instantly defined by the first track on our first album. The song that I think best describes who we are is probably "Nothing to Give". It's dark, raw and unapologetically hip hop, yet still infused with the soul, singing and melody that makes CL who we are.

Kno: Yeah, if you think "Lynguistics" is our best song your taste sucks. Considering the amount of work and artisanship we've put into our subsequent releases, I take it as a slap in the face, personally. [laughs] But "hip-hop heads" love talking about how they "like your old shit better". It makes them feel special for some reason to have known about you longer than anyone else.

HG: People may not be familiar with the Lexington Hip-Hop scene or the Kentucky Hip-Hop scene for that matter. What were some local artists that you looked up to when you were coming up? What artist do you think are "on deck"?


Deacon: There's a collective of artists known as Madd Militia that's been doing this since before I even started rapping. They were the first local rap assembly that made me actually believe that I could gain an audience making music. Sheisty Khrist, that rhymes on "Gun" from Dirty Acres, is a product of Madd Militia. Natti came up under his wing. Rob Jackson is another Kentucky MC that paved the way and gave others the drive to make music. There's a couple different rap duos that have my ear right now in KY. Kae State and Scoupe, plus, Young L.O.R.D. and Studio. Both duos are heavily produced by a cat named Spayde. They make incredible music.


HG: A lot of artists find it easier to find notoriety or a fan base outside of their hometown. Was this the case for the CunninLynguists or were you accepted locally from the getty-go?


Deacon: In the beginning we didn't have a "hometown". Kno was from Georgia, I was from Kentucky. With members that hailed from different places it was hard to even concentrate on a "hometown" crowd. As we gained momentum, made a line-up change with the addition of Natti, and settled in KY around 2003-2004, Kentucky began to really rally behind us and support our music. Those who knew of us, supported from the get-go, but we never had really made an honest effort to ever have "local support" until we were already 3 albums deep. Now we can draw great in Lexington or Atlanta, but that came with time.


HG: Is there any place you would want to do a show that you haven't been to yet?


Deacon: Hawaii or Japan.

Kno: Those two, and Australia.


HG: Where has been the best place to do a show so far?


Deacon: It's hard to say "best". We have some very supportive fans in the oddest locations. We've had superb shows in Alaska, Seattle, Los Angeles, Colorado, Boston, Switzerland, Lithuania, Czech Republic, etc. I love them all too much to try to name a favorite.

Kno: My favorite is wherever we have fan support and an energetic crowd.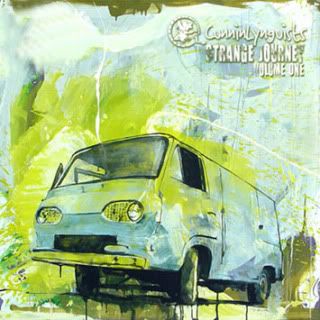 HG: When is Strange Journey Vol. 1 dropping and what can fans expect?


Deacon: It's already been released digitally, but the actual street date is July 14th. The fans can expect the unexpected as always. SJV1 continues in the tradition of our Sloppy Seconds series, except we made more effort to create a cohesive project. Sloppy Seconds Volumes 1 and 2 were just a random collection of songs that really didn't have any type of concept or flow. With Strange Journey Volume 1 and 2 we're seeking to bring the listener into what makes us special. How we came to meet these people that come from all over the "Hip-Hop Spectrum" as you put it. We've never had co-signs or industry support. It's all been blood, sweat and tears over here.


HG: What's in your tapedeck? Or. What's on your turntables? (not your IPod or CD player.)


Kno: *looks at turntable* Steve Kuhn.


HG: Any living artist. What's the CunninLynguists dream collabo? What's stopping it from going down?


Deacon: A track featuring Biggie Smalls and Tupac Shakur with Michael Jackson on the hook. Lazarus was the last person I know of that officially made it into and heaven and came back though, so I don't think we can knock out those vocals anytime soon. Aside from that...umm, we realistically have already had dream collabo's in our minds. I'd love to hear Jay-Z over a Kno beat that wasn't a remix. I'd like to hear Jay after he sat down and WROTE to a Kno beat. I know he claims to not write, but that's my dream.
Buy Strange Journey Vol.1 on ITunes
"Don't Leave (When The Winter Comes)" ft. Slug of Atmosphere
http://www.myspace.com/cunninlynguists