Today The most interesting places to get informed when it comes to pop culture media are BLOGS. Right? So, I have decided to start a new HG Interview session with some of the most interesting messengers and prophets of our culture today- The BLOGGER. First stop is
Sound Verite Blog
a place I travel at least 3 times a week for everything from a New Fever Ray remix song to the new Rakim & Jadakiss song.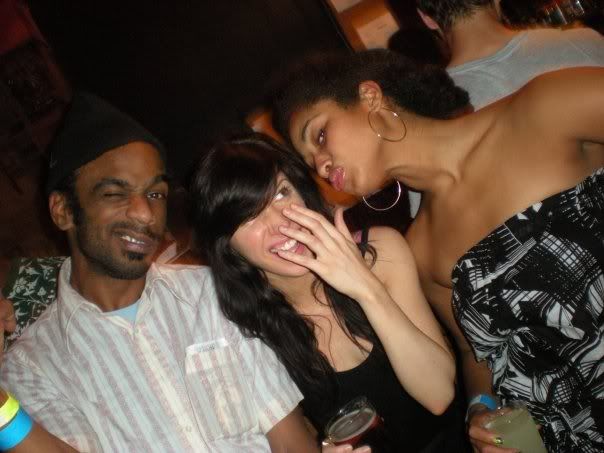 HG: How did this Sound Verite' come about?
JJS (Jon Jon Scott): Started as a place for random post of politics, music
HG: Quick! Gimme a movie, a book or magazine, an album, and a type of food ???
JJS: New York Museum Of Complaint by Matt Bakkom, My Bloody Valentine Loveless, pasta alfredo
HG: Ahhh... Pasta Alfedo... yummmmmm.....
HG: Who's release date are you anxiously awaiting on right now?
The Clipse Til The Casket Drops, Twilight Saga: New Moon sdtk. Wale Attention Deficit ,Omar Rodriquez-Lopez Xenophanes, The Roots How I Got Over, Yo I almost forgot Broken Social Scene.
HG: I never heard of Omar Rodriquez-Lopez Xenophanes.
JJS: Omar Rodriquez-Lopez Xenophanes is guitarist from Mars Volta
HG: A blog takes up a lot of time. Plus, it gets addictive. What did you do with that time before you started the blog?
JJS: Working with artist Graph Nobel, Shawn Hewitt in Toronto, Muja Messiah in Minneapolis and living between Minneapolis and Toronto for several years. After slowing down and returning to Minneapolis the past few years I quickly relised how progressive, artistic and varied in styles within genres in the city was. With this new energy in Minneapolis the last few years I started to focus a little more on what was happening and being excited as bands like Tapes N Tapes, POS, Solid Gold, Brother Ali take flight alongside rising new artist Vampire Hands, Muja Messiah, Red Pens, Maria Isa, Skoal Kodiak, Black Blondie , Aby Wolf , Manifest and Gospel Gossip breathe light and ebery on the city. There's an incredible amount of artist from rappers. dj's & producers to art punk, noise-rock and emo and pop bands abound diy wild style, some even share band members.
HG: Is there anything you would want to change about the music industry right now?
JJS: Niggas got stop being followers of the bullshit, instant garbage that everyone loves and I cant understand for the life of me the appeal of some of these cats I just don't hear anything original and to me that's just mad John Mayer. Fuck it though, little girls gotta rock out to, my little sisters rock that radio-rap, I'll keep waiting the for next Big L.
HG: Yeah...I totally feel you but, lets not be too hard on ourselves their is a lot of bad regurgitated rock. Even groups that I like, when I really think about they aren't bringing anything new or innovative to the table.
HG: If your blog wasn't about music what would it be about?
JJS : Politics, media coverage and its lack to see how lame the MSM really is. The lack of journalism in hip-hop, it's like everyone is scared to say a record even by a major artist sucks ass.
HG: True Journalism is almost all gone away. $$$

HG: Top 3 live shows this year?
JJS: Mars Volta, TV On The Radio, Nas x Marley
HG: Is there anything else you want to add?
JJS: I wish more of the new blogs would simply carve out their lane, come up with an idea without posting everything seen everywhere else, the second it drops, of which sometimes I guess I'm totally guilty of, but dammit the overwhelming of sameness makes it even less worthy. Love Keith Obermann, Jean Paul Basquiat , Barack Obama, The Huffington Post, Marvin Gaye, Rachel Maddow new media. HeavyGUN rocks
HG: Thanks, The 10 TEN List and the Interviews are my favorite part of HeavyGun, so I'm always glad to see other people enjoy that too and not just the music download or the funny Youtube video.
Check out the Sound Verite Blog (one of my favs!)
soundverite.blogspot.com