It's an early show Grey hits stage at 8p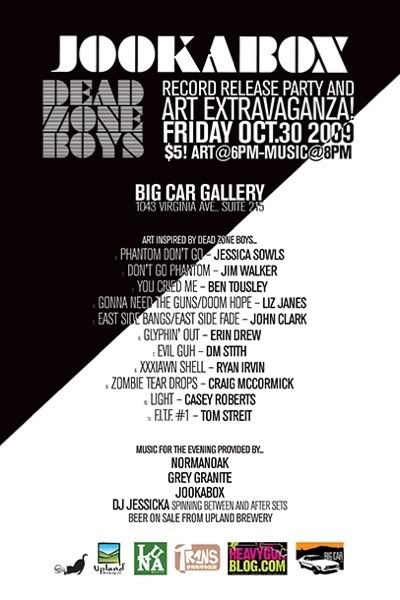 Friday, Oct. 30: Dead Zone Boys group art show and Jookabox CD release show, opening at 6 p.m., music at 8 p.m. $5 with Normanoak, Grey Granite and DJ Jessicka. Featuring local craft beer for sale from Upland.
Asthmatic Kitty Records recording artist Jookabox has teamed up with Big Car Gallery and 11 artists from Indianapolis and Bloomington to create an art show that renders each one of the songs on his new album, Dead Zone Boys, as a work of art. 
Artists in the show: Jessica Sowls, Jim Walker, NERS, Liz Janes, John Clark, Erin Drew, DM Stith, Ryan Irvin, Craig McCormick, Casey Roberts and Tom Streit. Dead Zone Boys stays open as Big Car's First Friday show on Nov. 6, 6-11 p.m. and throughout November.
For more info