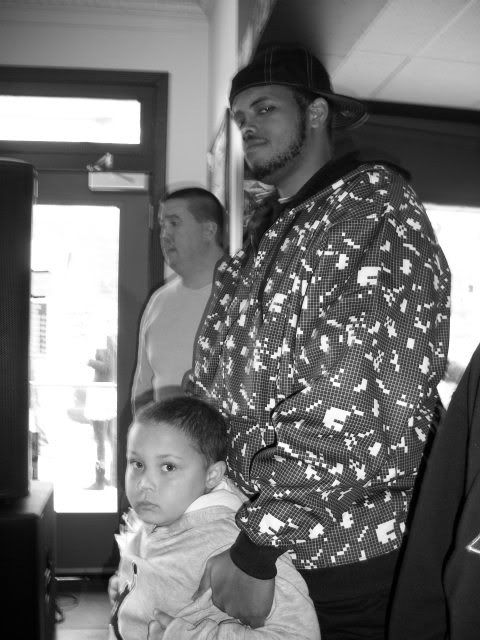 HeavyGun recently interviewed the winner of the first HeavyGun x BRMF Beat Battle: Firearms. If you heard the name (or the music) you know that this man is serious about his craft. Get to know the man behind some of the hottest (no pun intended) beats and rhymes I've ever heard!
the questions...
1. Did you have a strategy going into the battle?
Firearms:
Kill shit and play dope ass beats. Wasnt expecting to win though...just wanted to make a lil noise. I was only confident about the Can sample round...I knew if I made it that far I would get through that round. In the final round I was thinkin Harvey was gon murder my shit hahahah....somehow I came out on top though. Mad props to my bro Joe Harvey...he inspired alot of production from me.
2.Describe your style of production?
Firearms:
My style is what I call "not having a style" lol....whatever im feeling or whatever an artist requests is what gets done. I have damn near every type of beat. I go thru phases...right now im choppin samples alot. My last phase was straight down south beats. I pride myself on steppin out my comfort zone and re-creating my "style"...
3.You are a emcee/producer. Is it easy to rap over your own beats?
Firearms:
Man im not tryna brag or boast, but, real talk, its easy to rap over ALL beats...once I catch the flow, I GO. I will say its easier to rap over beats that I DONT get that feeling inside me(the chills that tell you YOU GOTTA spit on this) with than it is the ones I do...if I feel it in my soul I feel like I gotta live up to my own expectations of what a track thats perfect should sound like.
4.Lil Firearms was in the building at the battle. Did he give you any advice for the battle?
Firearms:
lol...funny you ask...before the final round started I asked Lil Homie pick a number...he said 16. After me and Harvey played our first 2 tracks and they was screamin 1 more round I couldnt decide what to play. So I was like fuck it im playing 16...thats the joint that won the battle for me and I didnt realize till after it was over that is was the track Lil Feeray said play from jumpstreet. Dudes a genius hahahaha
5.For the sample round what Can song did you sample? Was it difficult?
Firearms:
Its a track off their "Soon Over Babaluma" album called "Dizzy Dizzy". Man I was choppin up the samp on the ASR10 coming up with some dope ideas. Threw them all out, and the morning of the battle @ 2am I started workin on the beat. I stayed up till 730am workin on it perfecting it. I wouldnt say it was difficult, just complex because of the way I chopped it and filtered the guitar sounds. Either way hard work payed off...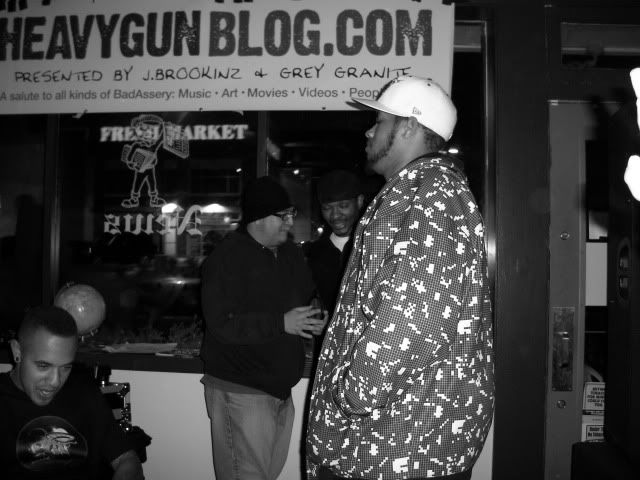 6.What's next for Firearms?
Firearms:
My album "The Cure", more beats, more collabs, Beat Mafia, etc. I just wanna grow musically. Take it to the level it used to be on when it had SOUL.
7: Shout outs?
Firearms:
First and foremost SHOUTS to heavygunblog and everyone involved with it, my P.I.C. Son of Thought, the MAF, Axehand, Tornado Alley, Cutboxxx, all the producers in the battle, Joe Harvey, Dola, Alpha, ComDot, BFAM, Flight City, ScumBag BillionHeirs, MY SON, the judges from the battle(alph, A.I., Hellhammer and Lex)...and everybody who came out. That was a good day in HIP HOP and we needed that. NAP IS ALIVE. PEACE.

Follow FireArms on Twitter
Check out FireArms on Myspace