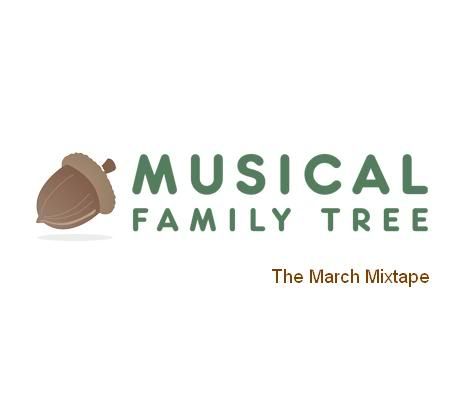 The March Mixtape is here. Lots of Muncie connections this time around as that's where my music experience here in Indiana began. It's so fun to jump around on MFT listening to records I loved and lost and have now found again!
DOWNLOAD:
http://bit.ly/9E8fR3
Tracklist and Info below:
Old Flames
- Revival - Lon Paul Ellrich's last project.
Water Brothers Trust
(Erick Alexander) - Stereo Love - Solo debut from Ex Everything Now! and Revel in the Morning. The whole record is aces, but this track is a standout.
Early Day Miners
- So Slowly - Appears courtesy of Secretly Canadian Records, from The Treatment Full Length, 2009.
Lunar Event
- Houston Doesn't Answer - Classic Indianapolis Electropop band.
DM Stith
- Pity Dance - Appears courtesy of Asthmatic Kitty records. Hauntingly beautiful.
Kid Primitive Family
- The Sun - Another ex Everything Now! / Revel guy. Great and weird stuff. being released as cassette split by Joyful Noise Recordings.
BIGBIGcar
- Raspberry Grampall - Pre Jookabox David Adamson. Great Record!
Sardina
- Blues in 3 - Exclusive Sardina track.
Thunderhawk
- King Basement - Debut record is being released on Standard Recording Co. this month!
The Elms
- This is How the World Will End - Courtesy of Trust Incorporated. From The Great American Midrange.
Justin North
- Holy Sea - Amazing Muncie via Chicago basement Indie Rock. Reminds me of early Modest Mouse a bit with a 50's touch.
Woodlands
- Waterproof Gold Watch - Recorded at Frank Reber's new studio. Ex Arrah and the Ferns.
The Embraceables
- Girlfriend - Used to be The Belle Ends, ex Muncie, now Chicago. Very original and fun. Theatrical and groovy.
Revel in the Morning
- Headlines - Amazing Muncie band circa 2002. Members of current Thunders, Kid Primitive, Everything Now, Embraceables, Village Green Records. So angsty and arty.
Grey Granite
- Off Safety - New single from recently released Lust Poisons Pride. Heavy Gun crew!
http://www.musicalfamilytree.net/profiles/blogs/mft-mixtape-march-2010