JAMS a DeeJay/Producer has done remixes for Trash Yourself, Hollywood Holt, Flosstradamus & Toxic Avenger and has played most major cities in the US. parties played include: DANCE, MisShapes, Blow Up, Blow Up LA, Dark Wave Disco, TRASH, Electronic Music Festival '08, Frisco Disco, LIVE FOREVER, Lollapalooza parties, and many more. I (Grey Granite) recently got the chance rock the mic with him in The Natti and Had to ask in some questions for the GUNNERS!

HG: so why are you such a bad ass? I think it's all in your attitude, explain the Jesse Jamz attitude.
JJ: i smoke a lot of rock and drink a lot of red bull... how else you think i keep this swag. but to be honest i'm not really sure. i guess you could say "i be myself" which probably sounds lame as fuck haha. i really just try to always have a good time and not give a fuck. i definitely am always making fun of as much shit as possible and trying to keep myself and others entertained and laughing. i mean we might as well party and be silly while we can... and i'll make this shit last for as long as i can.
HG: how would your brother describe what you do?
JJ: i'm not really sure... i guess he would say i'm just trying to pursue my dream to be a successful dj and producer. me and my brother definitely get along really well and it's always nice to have support from family and friends.

HG: what is your biggest pet peeve while dee jaying?
JJ: shitty equipment... god that shit is the worst, because when i'm playing on a shitty sound system or busted ass turntables or mixers it makes me look like an asshole haha. shitty equipment can ruin a dj set and also make you feel shitty and bummed out afterwards. but sometimes you just gotta work through it and say "fuck it"
HG: Yeah can make you work harder and look really bad. I hate that shit!
HG: what's your favorite fashion item and where do you get those black boots?
JJ: i would definitely have to say jackets... i have a lot of jackets. i'm also really into jewelry. haha i can't tell you about the magical place where i get my boots... it's in a mystical realm known as the world wide web.
HG: That Neck Piece you rock is dope, I want one sooo bad...
HG: I know you're heavy into creating remixes right now; do you have anything big in the works?
JJ: i have a remix of Trash Yourself & Toxic Avenger's track Die getting ready to surface. i'm also currently working on a remix for Sidechains, a really amazing disco house producer from Barcelona. next in line is a remix for Flosstradamus which im pretty excited about. i also have some originals in the works, so we'll see how those turn out.
HG: hmmm... you need to do an "Off Safety" Remix for Grey Granite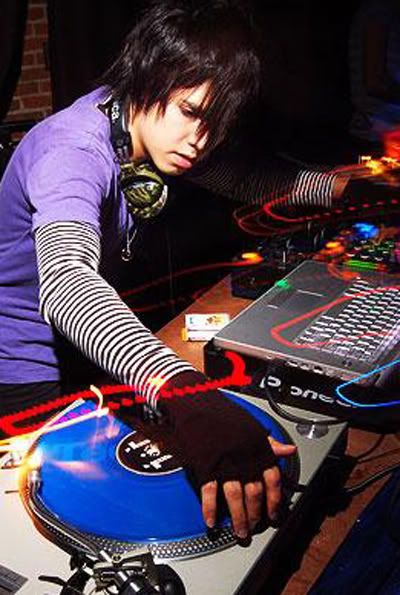 HG: what song would you like to roll out to when its all over- played at your funeral?
JJ: oooh that's a tough one! i think One More Time by Daft Punk would pretty rad. I'm Not Alone by Calvin Harris would also be really good... well maybe they would play that when i'm floating on a raft in the ocean and the dude shoots me with a flaming arrow.
HG: yeah that would be uber BadAss! You should have a super giant black and white framed photo on the raft too. My song would be "November Rain" Guns & Roses
HG: how much sex is enough in one week?
JJ: if it's with the pool boy esteban i would say twice a week. but for real, when it's with someone you love can you really have enough?
HG: What city is the most fun to Dee Jay in and get some good food afterwards?
JJ: i'm not really sure...but one thing i do know is that i have eaten White Castle with a lot of mother fuckers after i've dj'ed (as you guys well know). i'm also notorious for stealing lots of people's White Castle virginity. New York and LA are of course both great places to eat late after a show. Kitchen 24 in hollywood is pretty dope.
HG: yeah that WC did hit the spot. My people out in Cali are always talking about it because they don't have them out there.
HG: who is the best power ranger of all time? I was always about the green ranger/white ranger.
JJ: honestly i never really watched power rangers. i was super into Batman Beyond though. if you've never seen it check that shit out... it's tight.
HG: yeah you can't go wrong with Batman.
HG: what is the one thing that has to happen so you know you have arrived at the place you want to be in life?
JJ: well in terms of my career, once i have a booking agent who is getting me a bit of shows i think i'll be pretty happy. having lots of other dj's spinning my tracks would be awesome too. i think if i keep working hard i'll be there in a couple years. eventually my goal is to move somewhere in the UK or Europe.
HG: you'll have it soon. it's just in you!
jessejamz.com
myspace.com/jessejamzmusic
twitter.com/thejamz
Anything else you want to add?