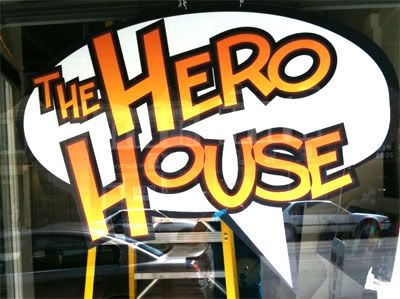 I
nterview by by Grey Granite
What comic to the big sceen movie are you excited about?
The Jonah Hex movie with Josh Brolin is gonna be pretty Bad Ass.
What was the first comic you remember buying?
Superboy and the Legion of superheroes 198
Can you suggest a new series that people need to be aware of?
I Can't recommend Walking Dead Highly enough. I dont know anyone that could possible read teh first trade paperback and not be hooked for life. It is comic book Crack.
What comic do you feel changed all the rules of the comic book world?
Well The Watchmen is the obvious answer. With its multi-layered and deconstructionist story telling. There's never been another comic that was so obviously designed to take advantage of everything that is unique about the medium of comics.
Do you check any websites or blogs regularly (comic related
or not)?
Newsarama, comic bloc, superhero Hype are great sources of inside info.
Who would you love to see walk through the door of the Hero House?
I've been lucky enough to meet a lot of my favorite creators over the years and even break bread with a few. But the idea of sitting down with Alan Moore ( the Watchmen) and picking his brain over a pint of beer would be terrific.
Anything else you want to add?
Stop by and check it out. 1112 Prospect st. Indianapolis, IN