Savvy Salon's Katie Jones
Heavy Gun loves VERY interesting people and this lady definitely fits the bill!
She's uber smart, uber young and uber successful. She's the owner of Savvy Salon, an ultra hip yet still down to earth Salon.
HG:How would your best friend describe what you do?
What I love!

HG:What motivated you to open your own store?
My son
HG:Unfortunately not very many people ever allow themselves the freedom to tap into
their true passions. Many people just go to a job they hate everyday, what made you
different?
I started my education in nursing school. found myself making
excuses for my choice, knew it wasn't right. I love to help/nurture
people and utilize many components from my nursing career to
make my career choice more beautiful :) style although ever
changing is a timeless gifts it fuels my passion!
HG: If you weren't doing this what would you be doing?
Probably in NYC doing some sort styling
HG:If you could bring two people into your life to learn from, past or present who would
those people be?
beck on being prolific/ great grandmother Virgina for her love of
shoes and fashion. she passed when i was 2, i am often compared to her.
HG:Give me the names of some music you are listening to now- the ones you are
playing-out. Oh and, is there anything that you love but cannot play in the store?
sia, kayne, zero 7, cut copy, vhs or beta I love and appreciate all music! I am blessed to have a "music mentor" paul reiken who inspires me with fresh tunes! because we are
a family friendly salon I opt for edited versions
HG:And, the worst thing about owning your own business is??? And, the best thing is???
worst/managing personalities, discernment, taxes :)
best/inspiring, growing surroundings, impacting the beauty
industry, strength as a team
HG:My best friend has been living all over the place due to his foreign affairs major and
right now he is in Mauritius Africa and has to be there for two years so anyway, I saw
his little sister the other day and she's all grown up now and she wants to be a
designer; long story short, I'm taking over big brother duties for a while. So…
What is the best advice could you give young ladies that are aspiring to do something
in their life that is out of the norm?
Set goals, surround yourself with positive people who are already
living their similar dream, show up, always be the best version of
yourself! (ASK) Always, Seek, Knowledge! email me :)
HG:I have a friend that works in a hair salon (her name is Katie too) and she is always
saying that the type of products you put in your hair make a big difference. Do
you think that people understand the importance of hair care?
at my salon everyone understands hair care. with each service comes
a lesson. it is not that the over the counter products are the worst
thing you could do, they are impure. i could ramble on about chemicals
and philosophies if you wanted:). the most important thing is that
professional products are compressed so fewer products is needed. when
used correctly, its not that much more $ and lasts longer!
HG:How quickly do hairstyles change and what do you think the biggest motivator for
this change is: musicians, TV stars, street culture, or???
biggest influence is media for guests and some stylist.
personally- architecture, art, music, history, and earth
HG:Ok, I might get in trouble for this one but… Seems to me that Michelle Obama could
use a bit more style when it comes to the hair. If President elect's wife Michelle
came in Savvy Salon and said, "HOOK ME UP LADIES" what would you do to her?
(you are funny) Our concept of styling is this head shape as our guide and hair texture as
our fabric. using primary elements of design (square, circle, triangle) as our balance bwtn
shape and texture. we create tailored designs that compliment naturally given beauty!
Michelle Obama just needs a savvy polish!!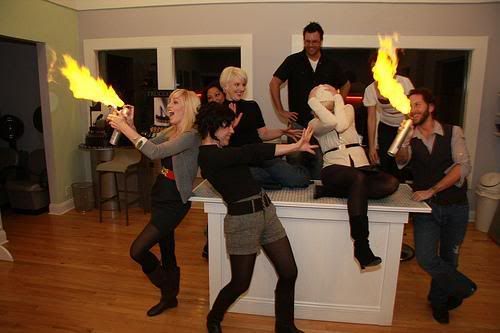 Savvy Salon




823 Broad Ripple Avenue,




Indianapolis, IN 46220



317.253.9455
hours of operation: mon 12-8 tues 10-8 wed 10-10 thurs 10-8 fri 10-8 sat 9-4
Savvy Salon myspace